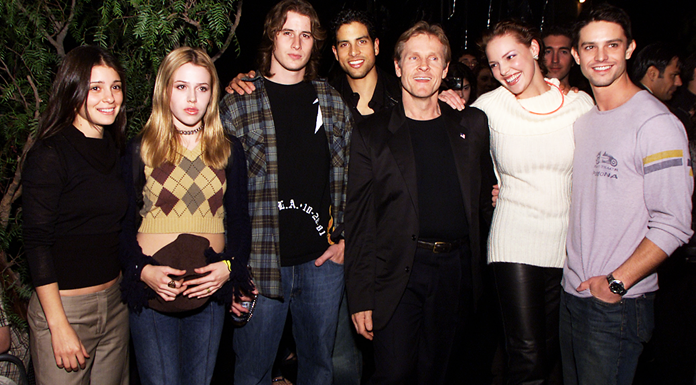 I spoke with Roswell's Majandra Delfino a few days before last week's announcement from UPN that the cult-drama show would air its final episode this spring. Die-hard fans of the hot alien show may be devastated, but Majandra seemed ready to move on even before it was official.
"It's so funny because nobody wants to come back," says Majandra, calling me from her cell phone in Miami, where she grew up. "Everybody's already gotten so emotionally and mentally prepared to not come back, and then we keep coming back, and everyone's like, 'Woah, I was actually ready to not come back — and now my whole world has turned upside down.' People make plans. At first, it was sad, and now, it's like, 'Okay, stop jerking us around.'"
Don't think Majandra hasn't enjoyed her time on Roswell and with her fellow cast members. She describes the cast as "like brothers and sisters." They fight and tease each other, "like, 'I had it first' type of stuff." Majandra says that everyone plays a certain role in the family. "Jason [Behr] and Katie [Heigl] are dating, so they're very much together a lot. They're like the adults — focused and well-spoken. Me, Shiri [Appleby] and Brendan [Fehr] are like the 14-year olds. It's like loud and throwing things and Brendan pinches Shiri, she gets mad and slaps him. And Nick [Wechsler] is just the one that everyone loves. He's so much fun to be around; everybody wants a piece of him. He can just sit there and everybody goes and, like, kisses the ring."
As for dating Brendan, Majandra insists they broke up almost two years ago. "Everybody wants to hold on to that, since the characters are together. They want to believe it so bad. Michael and Maria forever!"
"It just goes to show how juvenile the whole relationship is," she laughs. "Only in, like, middle school could you be friends in that way with a boy you just dated. You're like, 'I broke up with him because he spit in my sandwich.'"
Without a TV show sucking all of her time, Majandra's ready to "branch out" in acting and also focus on her music. The 21-year-old recently released a six-song CD called The Sicks, which she wrote entirely herself. Her sound is dark, pensive and features guitar layered with electronica.
"I wouldn't consider myself a brooding person, but I don't really think in sunshiney terms enough to be poetic about it," she says. Majandra describes her songs, with titles such as "Bruises" and "Oil + Water," as "diary entries." She never sets out to write a song — rather, "it's a mistake every time."
As for her acting career, Majandra looks forward to doing more movies. (She previously appeared in Traffic and some other titles available at your local video store.) "I'm not necessarily looking for a steady income as much as I'd like to do something that involves creativity," she says. "I'd like to do good parts with good writers and good directors. Not something that's simply to put your face out there, which is kind of what Roswell is. TV is so about that."
Roswell resumes April 23 for its final four episodes. Check back then to www.seventeen.com/win for your chance to score the show's soundtrack — signed by the entire cast! The season finale is May 14.