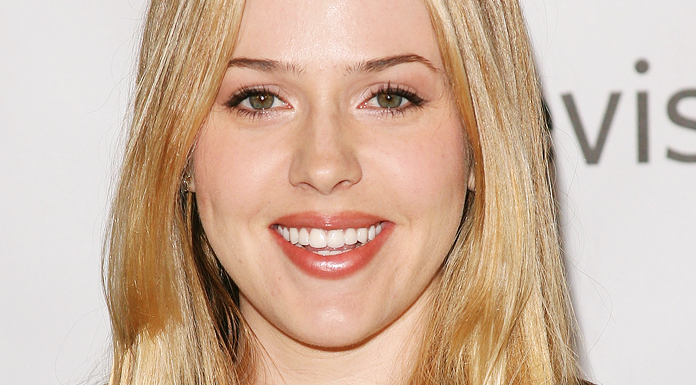 When Majandra Delfino was pregnant with her daughter, ABC cast the former Roswell star in a most unusual role.
"I did this pilot, The Family Trap, with Mandy Moore and I played a drunk. I was eight months pregnant," Delfino tells PEOPLE with a laugh.
"They did such a good job of hiding it and it was really interesting — I had to be this waistoid and all the while had this baby inside of me kicking. It was just so funny," she recalls.
Now seven months pregnant with her second child, the actress, 32, is starring on the upcoming CBS sitcom Friends with Better Lives — a role that mirrors her real life as an expectant mom.
"When I found out and called [the producers] with the news, they were so excited. They were like, 'Okay, we'll just make your character pregnant,'" Delfino says. "It's going to be all crazy couples stuff that happens when you're expecting, so it should be really funny."
But Delfino jokes that not everyone will be laughing off-screen. "I feel so bad for everyone at work because I'm [the] pregnant girl," she shares. "I'm the person who's like, 'No guys, I really feel like my character should be sitting in this scene.' "
Delfino — mom to 15-month-old daughter Cecilia Delphine — says she and husband David Walton, 34, have yet to find out the sex of their second child — and don't plan to until the delivery.
"We're going to wait and let this one be a surprise," she reveals. "Old school — where they're like, 'It's a girl!' and the doctor gets to have his moment in the spotlight."
During her first pregnancy, Delfino says she had to know the sex of her baby. So what's changed? "Cecilia set the tone of it being such a pleasant experience, that I'm like, 'I don't even care what it is, either way it's a party!' It's just more exciting to have no idea."
Still, she suspects it could be another girl. "My husband's got so many sisters that we feel it's in his genetics to just make girls," says Delfino, who admits she'd be happy with either scenario.
From her first pregnancy to her second, there's one thing that's stayed the same throughout: Guys hit on her more when she's sporting a bump.
"It's the most amazing thing," Delfino says. "A guy came up to me, had a full conversation — could totally see that I was pregnant — and then he asked me for my number to come back sometime and grab coffee. This guy was 6'2, totally gorgeous actor-y looks. I really thought I was on Candid Camera. I was like, 'This has got to be a joke.'"
But it's familiar territory for Delfino, who says the same thing happened when she was expecting Cecilia.
"For whatever reason, for my first pregnancy, I looked so much better than I have ever looked. It did wonders to my skin and hair. It was amazing," she says. "These guys were either blatantly hitting on me or going out of their way to say, 'I'd just like to tell you — you look gorgeous.' And hot guys! I thought, 'This is so crazy. I've never had this amount of attention.'"
Jokes Delfino, "And during the daytime — with no alcohol. There was nothing that would make someone say he was not thinking straight."