| | |
| --- | --- |
| Role: | Ashley Nolan |
| Rating: | R |
| Genre: | Crime, Drama, Thriller |
| Country: | USA |
| Language: | English |
| Release Date: | October 5, 2001 (USA) |
| Budget: | $1,000,000 |
| Gross: | - |
| Running Time: | 1h 53min |
| Directed by: | Eric Schwab |
| Written by: | Eric Schwab |
| Produced by: | Oscar Delgado |
| Cast: | Carmine Giovinazzo, Monet Mazur, Vincent Ventresca, James Eckhouse, Steven Bauer, Majandra Delfino, … |
After janitor Paul saves the beautiful Georgia from a man's unwanted attentions at a bar, the two come up with a scheme to lure men to her, then have Paul shake the victim down for money in return for not filing rape charges. After attempting to scam music executive Marshal, the duo are hired to conduct his dirty work. While Paul starts to enjoy their new lifestyle, Georgia is unhappy with turning permanently to crime.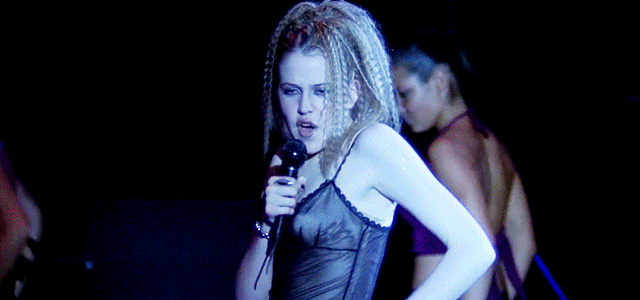 Ashley Nolan ...
is the councilman's daughter and an aspiring singer who dreams of being the next Madonna. When she runs into Paul at the music store who offers her some help, she jumps at the chance to record with Tude Records, hoping to get a record deal out of it which she does on the night of her live performance at a club. Her performance is a big hit, making her father really proud and Ashley super excited for her future.
In July 2016, it was announced Zoe Lister-Jones would write, direct, produce and star in the film alongside Hannah Simone, Colin Hanks, Brooklyn Decker, Jesse Williams, Susie Essman, Ravi Patel, Jamie Chung, Chris D'Elia, and Jerry O'Connell.

Lister-Jones is serving as a producer under her Mister Lister banner, alongside QC Entertainment who financed the film. Lucius composed the film's score.

FILMING
Principal photography began in July 2016. It was filmed with an all-female crew.

RELEASE
BAND AID had its world premiere at the 2017 Sundance Film Festival on January 24, 2017. Shortly after, IFC Films and Sony Pictures Worldwide Acquisitions acquired U.S and international distribution rights, respectively. It had its Los Angeles Premiere on May 30, 2017 and was released in theaters on June 2, 2017.

HOME MEDIA
THE LEARNING CURVE was released on DVD on April 23, 2002.
In January, Majandra attended several events at the 2017 Sundance Film Festival, together with her co-stars, to promote the film. In May, she attended the Los Angeles Premiere. Check out the photos from the events, several portrait sessions and interviews below.
Majandra, Zoe Lister-Jones and Brooklyn Decker also appeared together in the television series "Friends With Better Lives" and call themselves the "Sister Wives".
The film was written, directed and produced by Zoe Lister-Jones and had an all female crew.